If you're a woman who loves adventures and exploring off-road locations, then mountain bike riding might just be the thing for you. However, you'll need a reliable bike that suits you, and finding one might not be such an easy task.
There is such a variety of mountain bikes that you'll probably overwhelm when you start to search for the best one for you. Don't worry. I'm here to help you. To do that, I've made up a list of the best mountain bikes for women that you can find on the market. They are fast, agile, and sturdy, and they would be an excellent choice even for a professional biker.
How to choose the right bike?
How do you pick a dress? You look for the one that suits you, fits you and makes you feel comfortable. It's almost the same for mountain bikes – you want a bike that's the right size, matches the terrain you usually ride on and allows you to ride all day without feeling too sore afterward.
Here are some tips that will help you when it comes to choosing the best mountain bike for you.
Women bikes vs. unisex ones
When you start looking at mountain bikes, you start to wonder – should I buy a woman mountain bike or can I just get an ordinary one? Is there a difference between the two?
Since women are lighter than men, mountain bike manufacturers take that into account when they construct a bicycle. So yes, there are some differences between these two types of bikes:
Size. Women bikes are usually offered in small and extra small size to accommodate small stature riders.

A frame with a shorter distance from the saddle to the handlebars, and shorter top tube.

Crank arms. They tend to be shorter to make pedaling more efficient for those with shorter legs.

Handlebars. They are usually narrower to match the average shoulder width of women.

Gears. Some women mountain bikes might have more gears to make the climbing easier.
However, you should remember that riding a bike is an individual experience. Some might feel more comfortable on a unisex bike than on a woman bike. That's why it's important to do several test rides to determine what suits you.
Fix your budget and choose the frame material carefully
When you know what type of bike you want, it's time to decide how much you're willing to spend on it. Unfortunately, mountain bike riding is not a cheap hobby, and there are fewer choices available for women than for men in each price category.
In general, you can find a good mountain bike under $500 or $1000. However, such bikes are usually made of aluminum, which means that they are on the heavy side.
For men that might not be a problem, but for women, a lightweight bike is a better option especially if you're climbing a difficult trail. The lighter the bike, the easier it will be for you to control it and to pedal more efficiently.
The next choice is carbon, which price has dropped significantly in the past few years. It's not unusual to find good carbon mountain bike for $3000-$4000, and they are lighter and more comfortable than aluminum ones.
The last and the most expensive option is titanium.
My advice is to look for carbon frames. They are the middle ground between aluminum and titanium frames and are a nice compromise between lightness and price.
Comfortable saddle for a comfortable ride
Since the saddle determines how comfortable your ride is going to be, you have to pay special attention to it. Most woman mountain bikes have seats specially built for females that take into account the anatomical difference between the two sexes. But this doesn't guarantee comfort, and you might have to change the saddle if you're extremely uncomfortable.
The perfect saddle is one that provides your sit bones with enough support while cushioning the soft tissues. Fortunately, some manufacturers make saddles with different width fittings so that you can find the one that matches you perfectly.
Here you can read more about the best saddle for women.
Now, let's take a detailed look at the top five mountain bikes for women.
Top 5 Mountain Bikes For Women
1. Juliana Joplin Carbon CC 29 XX1 ENVE Complete Mountain Bike - 2017
Juliana is one of the most popular mountain bike brands, which offers high-quality mountain bikes for women. They present to us the impressive Joplin 29 XX1 ENVE mountain bike painted in a stylish ultraviolet color.
But I have not included this bike in this list only because of its lovely color. It boasts a carbon CC frame made of high-modulus carbon for extreme lightness and stiffness.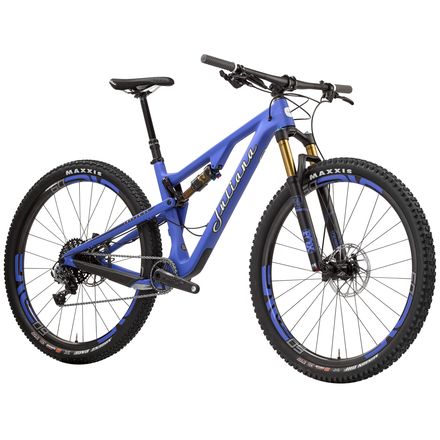 What's more, the two triangles of the frame are built as whole pieces, which is great because this equals a sturdy frame with reinforced key joints. This innovative method eliminates artificially created stress points and ensures the durability of the frame.
That's not all.
For a start, the Joplin bicycle features a VPP suspension with 4.5in of travel. The design of the VPP is slightly improved with repositioned links that stay out of your way and give you more ground clearance.
Second, this mountain bike has SRAM one-by drivetrain, including SRAM XX1 shifters and SRAM XX1 rear derailleur, plus a 120 mm FOX 34 Float 29 Factory Kashima front fork, an 110 mm FOX Float Factory Kashima rear shock and Boost axles.
You won't encounter any problems shifting gears with these components, and you'll barely feel any bumps on the trail.
The flip chip is the final impressive innovation worth mentioning. It adjusts the shock but keeps the geometry the same. This means that you can use both 27.5" plus or 29" wheels with this beauty without changing the head angle.
A Maxxis Minion DHF EXO TR 3c tires complete the picture along with some extras such as ISCG 05 tabs and Stan's NoTubes sealant 2oz.
Pros:
4.5in VPP suspension

Elegant design

Quality carbon frame

Flip chip

1x11 SRAM drivetrain and high-quality SRAM components

Extras
2. Juliana Joplin 2.0 Carbon 27.5+ S Complete Mountain Bike - 2017
For those of you that find Joplin 29 CC mountain bike to be outside their budget limits, Juliana offers you another beauty – Joplin 2.0 27.5+ S on a more affordable cost.
There are a few differences between this model and its high-cost counterpart. The most significant one is that this bicycle is made of lower grade carbon, which means that more material is needed to achieve the required strength.
In simple words, this bike is a little heavier than the other model, but it still meets Juliana's high standards.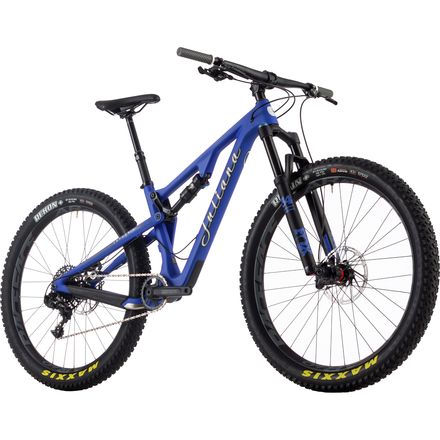 The ultraviolet Joplin 27.5+ S mountain bicycle also features a flip chip so that you can ride this bike either with 29" wheels and 120mm fork or 27.5"+ wheels and 130mm fork. When we add the VPP suspension and the moderate geometry with a 68-degree head angle, we have a bike that's an excellent choice for almost any terrain.
Another distinguishing feature of this Joplin 2.0 mountain bike is the SRAM GX 1x11 rear derailleurs in combinations with SRAM GX shifters. Thanks to them, you'll be able to shifts gears quickly according to the changing terrains.
On the other hand, the SRAM Level TL hydraulic brakes give you enough security to go downhill without worrying about an accident.
We should also mention that this mountain bike has front and rear boost thru-axles and a light shock tune specially designed for women.
Pros:
Durable frame

Fip chip

VPP suspension

Slack 68-degree head angle

1x11 drivetrain

SRAM components

Thru-axles
3. Juliana Furtado 2.0 Carbon CC X01 Eagle Complete Mountain Bike - 2017
Another extremely well-made and innovative representative of the Juliana brand is the Furtado 2.0 X01 Eagle mountain bike.
This stylish bike offered in an eye-catching spearmint color boast a frame made of high-quality carbon, which again wraps continuously through key joints and ventures. You won't have any durability issues with such a frame, and if you ever need to carry the bike around, you'll barely feel its weight.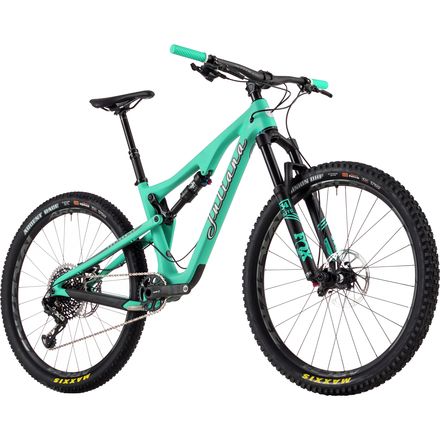 But that's not what makes this bike an excellent choice for any woman. It has one amazing feature that elevates it slightly from other models.
I'm talking about the revolutionary SRAM X01 Eagle one-by-twelve drivetrain that provides you with more gears than the well-known 1x11 drivetrain. You'll appreciate this on steep climbs when one extra gear might be all you need to make it to the top.
In contrast to previous models, this time Juliana bets on a slack 67 head angle and steep seat tube with a forward-positioned saddle for better pedal leverage.
It also has longer reach, lower bottom bracket, a wide 12 x 148mm Boost rear axle and improved VVP 3 suspension with a 130 mm FOX Float Performance Elite rear shock and 130 mm FOX 34 Float Performance Elite fork.
But that's not all. The mountain bike also has 27.5" wheels in combination with Easton ARC 24 wheelset so that you'll have no issues maneuvering on a harsh terrain.
We also shouldn't forget to mention the high-quality SRAM X01 Eagle shifters and SRAM X01 Eagle rear derailleurs plus the dropper seat post.
Pros:
Elegant spearmint color

High-quality carbon

1x12 drivetrain

A slack 67 head

VPP 3 suspension

A 130mm of travels

SRAM components

Dropper post
4. Juliana Roubion 2.0 Carbon S Complete Mountain Bike - 2017
The Juliana Roubion 2.0 S mountain bike is a bike built for agility and speed, and it's an excellent choice even for enduro racing.
It features a low-grade carbon C frame, which is slightly heavier than the high-quality carbon used in more expensive models. But it's still light enough to make the bike easy to control and maneuver.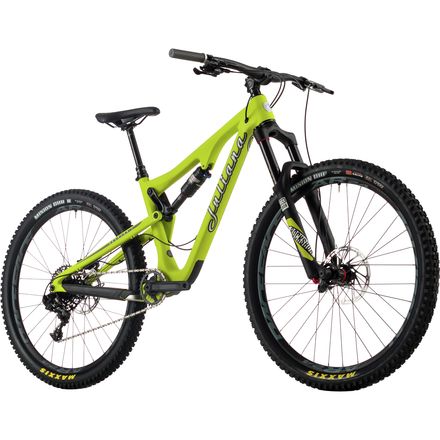 Among the other great feature of this mountain bike, we should probably mention first the 27.5" wheel size, which offers you versatility and stability.
Then we should point out the 150 mm Rock Shox Monarch RT rear shock and the 150mm Rock Shox Pike RC 150 Solo Air fork in combination with the VPP suspension.
All this equals a bike that allows you to accelerate fast without worrying about trail chatter. And the slack 66 head angle along with the 17.05in chainstays gives you more stability while riding.
Moreover, this mountain bike is equipped with high-quality SRAM components, including SRAM GX 1x11 drivetrain, SRAM shifters, and SRAM Guide R hydraulic brakes for supreme braking power at the right moment.
The one-by drivetrain may seem modest for some, who want more gears at their disposal. However, the advantage is clear - a 1x11 gear bike is a simple bike, and the risk of a mechanical problem during the ride is a low one.
The bike is offered in two colors – matte green/ white and stonewash and in S, M, and L size.
Pros:
Available in two colors

27.5" wheels

A 150mm of travel

A slack 66 head angle

SRAM components plus 1x11 drivetrain
Low-grade carbon frame

No flip chip
5. Yeti Cycles ASR Beti Carbon Eagle Complete Mountain Bike – 2017
Even though Juliana is the leading brand for women bicycles, The Yeti Cycles ASR Beti Eagle mountain bike has its rightful place in this list.
To make this model perfect for small stature rider, Yeti has lightened the tune and improved the touchpoints. When we add the 4in of single pivot suspension, the 102 mm Fox Float Performance rear shock and the 120mm Fox 32 Performance fork, we have a bike that will allow you to accelerate faster than you can imagine on any terrain.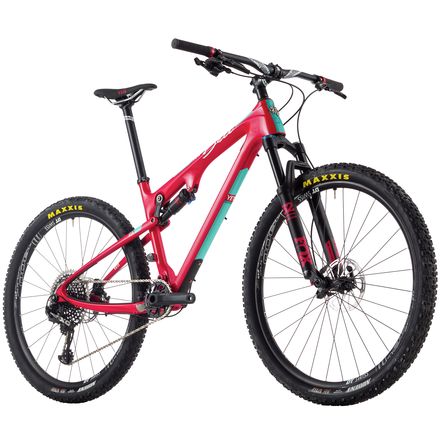 Moreover, the relaxed geometry of the bicycle makes it perfect not only for climbing the trail but also for steep descents. And since it's made of carbon fiber is light, stiff and durable.
That's not all. It's equipped with SRAM one-by-twelve drivetrain and SRAM X01 Eagle 12-speed shifters and derailleurs. This equals more gears at your disposal and quick and smooth shifting to answer the quick-changing terrain. And thanks to the SRAM Guide R hydraulic brakes you have enough braking power to stop safely.
The Yeti ASR Beti bike is also built to be compatible with 27.5 wheels or 29in wheels depending on the size, and the frame has a five-year limited guarantee.
Pros:
4 in single pivot suspension

1x12 drivetrain

High-quality SRAM components

Hydraulic brakes

Built for 27.5" and 29" wheels

Thru-axle
Carbon fiber frame

A 5-year limited warranty
Our Recommendation for you
It's very hard choosing from one of these magnificent bikes, isn't it? But I feel that the best mountain bike for women is the Juliana Furtado 2.0 Carbon CC X01 Eagle one. The reasons are numerous, but to point a few:
high-quality carbon frame

elegant design made for speed and agility

27.5" wheel size

Innovative 1x12 drivetrain

High-quality SRAM components

VVP 3 suspension

A dropper post

Slack 68 head angle for easy climbing
It doesn't have a flip chip, unfortunately, but I think that most of you will appreciate more the 1x12 drivetrain and the light carbon frame than the ability to switch between wheel sizes.
So think carefully, do a few test rides and then take a look again at these five best mountain bikes for women. You won't regret whichever you choose.