2019's Top 5 Mountain Bikes Under $3000
If you're not a novice to mountain bike riding, you might be wondering what's new on the market. Or maybe your favorite bike broke, and you're searching for a modern one to replace it. But you don't want one of those cheap mountain bikes – you want something impressive, fast and durable that would make everyone else green with envy.
In this case, you have come to the right place. Here I've gathered a list of the top 5 mountain bikes under $3000 that won't disappoint if you want your daily dose of adrenaline.
Tips for choosing a $3000 mountain bicycle
If you take a look at the various mountain bikes on the market, you'll probably be confused about the many features that they are offering. But here are some things that you need to consider when buying your mountain bike.
Chose the frame material carefully
At this price threshold, you will have to make a choice between aluminum and carbon frames. To make your choice a simple one, I'll point the pros and cons of both.
Weight
When it comes to weight, we have a clear winner, and that is carbon. It's lighter than aluminum, and it's easy to mold it into various shapes allowing more extravagant bike frames.
If you need a mountain bike for climbing uphill or fast acceleration, you can't go wrong with a carbon frame.
Comfort
In general, aluminum mountain bikes are considered less comfortable than their carbon counterparts because the trail vibrations get transferred to the rider. On the other hand, carbon mountain bikes lessen to some extent the uncomfortable sensations.
Durability
The crucial thing that you must remember here is that an aluminum frame will deform, while a carbon one will crack. And whether the carbon frame could be mended depends solely on the type of damage. However, most manufacturers give a lifetime guarantee on their carbon frames, while the aluminum ones have a 3-5 year guarantee.
My advice is to read the warranty terms very carefully before buying the bike.
Cost
A carbon mountain bike costs more than an aluminum one. Fortunately for all mountain bike riders, the price of carbon bikes has lowered significantly during the last few years, so it's possible to find such a bike even for $3000.
The lightest material for a mountain bike is titanium, but it's highly unlikely that you'll find one under $3000. If you see one, don't hesitate to grab it.
A bike style that suit you
The important thing here is where you're going to ride your brand new mountain bike. Think carefully about the terrain and the distance. Are you looking for something to ride on a rough surface all day long, or for an occasion ride? Answer this question, and then look at these four main bike types:
Trail bikes. Such bikes are an excellent choice both for descents and ascents.

Cross-country bikes. They are perfect if you like riding uphill regularly or if you want to ride all day long.

Enduro bikes. They are built for steep and challenging terrains.

Downhill bikes. They are made for those of you that like fast descents.
The right wheel size for me
At the $3000 point, your choice will be mainly between 27.5" or 29". It all depends on what you want– better traction or lightness.
The 29" wheels provide you with stability and traction but add some weight to the bike. These big wheels also need more time to get going, but they hold their speed very well.
The 27.5" are more nimble and lighter than their larger counterparts, which makes maneuvering easier. But you won't be able to roll through obstacles as easily as with 29" wheels.
Here's a very well-made comparison table of the different wheel sizes that might be useful to you.
Go for a test ride
If you are still not sure what kind of bike or wheels you want, go to your local bike shop. Test ride several different mountain bikes and determine how you feel about them. Think about what feels right and what feels wrong. Then test ride again until you're certain what you want –a full-suspension bike or a hardtail bike.
If you do a test ride, it'll also be easier to figure out your perfect bike fit.
Now, let's take a detailed look at my top five picks.
Top 5 Mountain Bikes Under $3000
1. Juliana Nevis Carbon CC XT Complete Mountain Bike ​
When your eyes fall on the Juliana Nevis mountain bike painted in a stylish matte carbon and white, you immediately know that this is not an ordinary bike. Unlike less expensive model, this one has a unique carbon frame coupled with 27.5 "wheels and Maxxis Ikon Tubeless Ready tires. Thanks to them, you won't encounter any problems on a smooth trial or a rugged terrain.
In contrast to other mountain bikes offered by Juliana, this bike has a longer cockpit, so stirring and controlling the bike is a piece of cake. In addition to this, you have more space to make yourself comfortable, and even if you have to ride all day, you'd still be as good as new thanks to the 27.2mm Seatpost and the Juliana Primeiro saddle.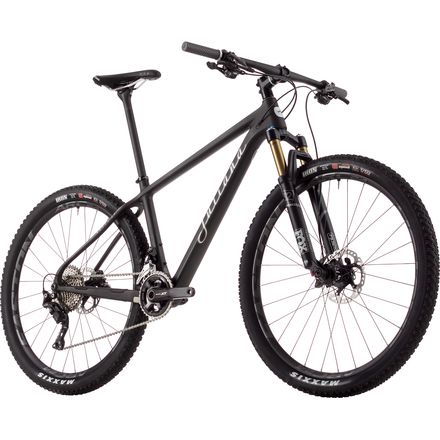 Let's spare a moment to look at the other important components that make this mountain bike a thing of beauty and speed. It features a 100mm Fox 32 Float Factory fork for a smooth and bump-free ride in combination with Shimano XT M8000 SL shifters and Shimano XT front and rear derailleurs.
That's not all. For your safety, this bike is equipped with Shimano hydraulic disc brakes for ultimate braking power. The frame also has a lifetime guarantee so that you shouldn't worry about its durability.
Pros:
carbon frame

27.5" wheels longer cockpit

69- degree head angle

Shimano components

Hydraulic brakes

Lifetime guarantee on the frame
Pedals are not included

Not full-suspension
2. Pivot Mach 6 XT Race Complete Mountain Bike ​
Do you need a bike that's built for speed and agility? Then you won't regret taking a look at this beauty offered to us Pivot. The new Match 6 XT race mountain bike features a stunning design that immediately catches the eye of the viewer, and it's built especially for those of you that want a more versatile mountain bike.
To make this model more affordable to the average buyer, Pivot Match has made the frame from aluminum with geometry that matches the more expensive carbon version. However, the design strives to improve the versatility of the previous models so that you can ride this bike almost anywhere effortlessly.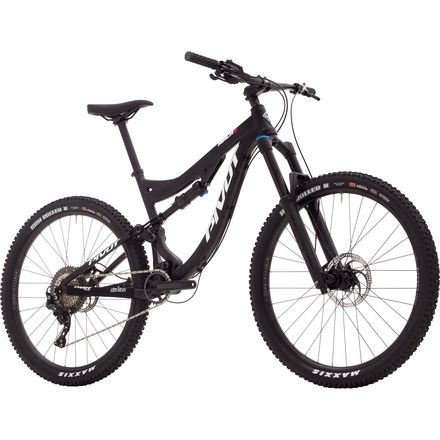 The frame features a double wishbone rear triangle and an upper wide linkage, combined with a rear 12 x 148mm Boost thru-axle and a front 15 x 100mm Boost thru-axle. Another novelty of this model is the 6-inch DW-Link suspension design that provides the rider with additional traction especially when climbing a rough trail.
The bike also has a 155mm Fox Float X Black rear shock, a 160mm Fox 36 Performance Boost fork in combination with Shimano SLX 11-speed shifters for smooth gear change.
If that's not enough for you, the Pivot Match 6 mountain bike is also equipped with Shimano XT 11-speed GS rear derailleurs, a 30.9 mm Seatpost and Shimano hydraulic disc brakes. And the 27.5" wheels and Maxxis High Roller 2 TP tires give you enough stability while riding full speed.
And despite all these features, the bike weighs only 14060g, and the manufacturer gives the frame a 3-year warranty.
Pros:
Front and rear Boost thru-axles

6-inch DW-link suspension

Shimano components

27.5" wheels

Light construction
3-year warranty on the frame

Aluminum frame
3. Santa Cruz Bicycles Highball Carbon 29 ​R Complete Mountain Bike
The Santa Cruz is a well-known mountain bike brand, and the reason for this is very simple – they offered a supreme quality at a reasonable price. The new model that they are presenting to those of us with a fixed budget is truly a thing of beauty.
Available in gloss gray/ red or matte black/white color, this bike boasts a carbon C frame. To be fair, we should mention that the frame is made of lower modulus carbon. It's not as light as the carbon used in more expensive models, but still – it's a big improvement because the frame weighs only 10590 g.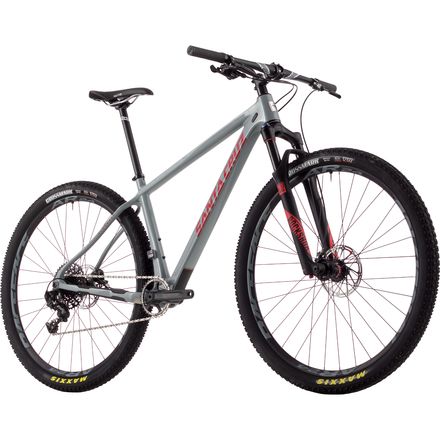 There is one more thing you need to know about the frame – it's a single layup, and the material wraps continuously through all the important junctures. This equals a stronger, more durable frame, with reinforced vulnerable joints.
The Santa Cruz Highball S mountain bicycle also boasts 29" wheels so that you can roll through any obstacles on your trail, a 12 x 142 mm rear axle, a 100 mm Rock Shox SID RL fork, and a 27.2 mm Seatpost that you would appreciate when you have to ride hard all day.
If that's not enough for you, keep in mind that it's equipped with SRAM GX 1x11 drivetrain for quick and efficient gear change and SRAM Level TL hydraulic brakes so that you can speed downhill without fear.
And we shouldn't forget to mention that the frame has a lifetime guarantee.
Pros:
Carbon frame

Single layup design

1x11 drivetrain

SRAM components

29" wheels

Lifetime warranty
Pedals are not included

Not full-suspension
4. Santa Cruz Bicycles Tallboy 29 D Complete Mountain Bike ​
For those of you that like to challenges and rough terrains, Santa Cruz has just the thing – the Tallboy VPP-suspension bike that boasts an elegant design and sturdy construction.
It has some impressive features and innovations that take this bike to the next level when it comes to cross-country riding. It's made of hydroformed aluminum with a weight of only 14580 g so that you won't have a problem to accelerate fast when you need to.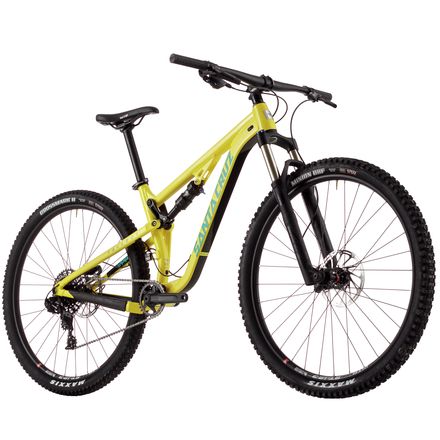 First, we should mention the flip chip which adjusts the upper linkage so that the bike is compatible both with 29" wheels and 27.5" plus size wheels. When you flip the chip, you reposition the shock attachments, while the head angle remains the same.
When the Tallboy mountain bike is in 27.5+ mode, you can use 2.8in tires. However, some 3in tires might be problematic.
Second, it has an improved VPP suspension with 110 mm Fox Float Performance rear shock and a 120 mm RockShox Recon Silver RL fork. Thanks to them, you'll have a comfortable and smooth riding experience no matter the terrain.
The Tallboy mountain bike also has 15x 110 mm Boost front axle, a 12x 148 mm Boost rear axle, and most importantly SRAM one-by drivetrain with SRAM NX right shifter and SRAM NX rear derailleur. For safety and superior braking power, the model is equipped with SRAM Level hydraulic brakes.
It's offered in a stunning yellow/emerald color or gray/rust.
Pros:
VPP suspension

Flip chip

27.5+" or 29" wheels

SRAM components

One-by drivetrain

Lifetime frame guarantee
3in tires might be problematic

Aluminum frame
5. Santa Cruz Bicycles Highball Carbon 27.5 R2 Complete Mountain Bike
For those of you that prefer 27.5"wheels and the ability to maneuver quickly, Santa Cruz has a new model to offer you – The Highball R2 mountain bike. It features a carbon C frame with a weight of 11190 g that guarantees you both lightness and stiffness.
Those that want more gears won't be disappointed by this model – it's equipped with Shimano's SLX double drivetrain, Shimano shifters, Shimano front and rear derailleurs and Shimano 11-speed cassette. Regardless of the terrain or the trail, you'll have plenty of gears and speed at your disposal.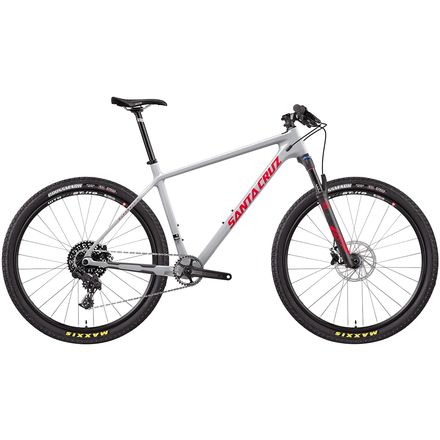 That's not all. Even though the R2 mountain bike is not a full-suspension one, it strives to correct this disadvantage with a shorter 27.2 mm Seatpost. While it won't be as comfortably on a rugged trail, as a full-suspension one, it would still provide you with enough cushioning.
Just like its big cousin – the 29-inch model, the 27.5 R2 bike is a single layup which equals a stronger and more durable frame. Moreover, it features 100 mm RockShox Reba RL fork and SRAM Level T hydraulic brakes making it an ideal choice for a cross-country riding.
It's offered in matte black/white or glossy gray/white with a lifetime guarantee on the frame.
Carbon frame

Double drivetrain

Shimano components

27.5" wheels

Single layup design

Lifetime guarantee
Our recommendation to you
As you see, a $3000 budget gives you a lot of choices and extras. You just have to decide exactly what you want. But at present, I feel that the best mountain bike under $3000 is the Santa Cruz Highball 29 ​R mountain bike. The reasons for my choice are:
Lightweight, carbon frame

single layup design

29" wheels

1x11 drivetrain

High-quality SRAM components

Hydraulic brakes

Lifetime guarantee on the frame.

Thru-axle
One of the biggest advantages of this mountain bike is the very light carbon frame, which makes this an excellent choice for anyone that wants speed, agility, and stiffness. And since it's one-by drivetrain, you're less likely to encounter mechanical issues in the future, while the 29" wheels will leave any obstacles behind you.
I hope that I've been useful to you and that you'll be able to choose your best mountain bike under $3000 easily. And always remember to take good care of your bike to avoid accidents.